In her office at the American University of Nigeria, in the dusty northeastern town of Yola, Margee Ensign heard the news: Some 170 miles to the north, nearly 300 girls at a boarding school had been roused from sleep and kidnapped at gunpoint by the terrorist group Boko Haram.
Ensign, the president of the fledgling university, was already struggling with the fallout from Boko Haram's attacks in Nigeria's north, which had sent a flood of refugees into Yola. Together with community leaders, including her fellow Rotarians, she had worked to run feeding programs to keep the refugees – whose number eventually swelled to 400,000 – alive.
After the news of the kidnapping broke in April 2014, a woman who worked for the university asked to see Ensign. She sat down in the president's office and told Ensign that her sister had been one of 58 girls who had escaped that night by jumping out of Boko Haram's trucks and running into the bush.
Ensign quickly began contacting those girls' families to offer them a place at the university, which also houses a high school. In the end, 27 girls decided to come, and on 30 August – four months after the raid – Ensign prepared to head into the heart of the conflict to pick up the girls.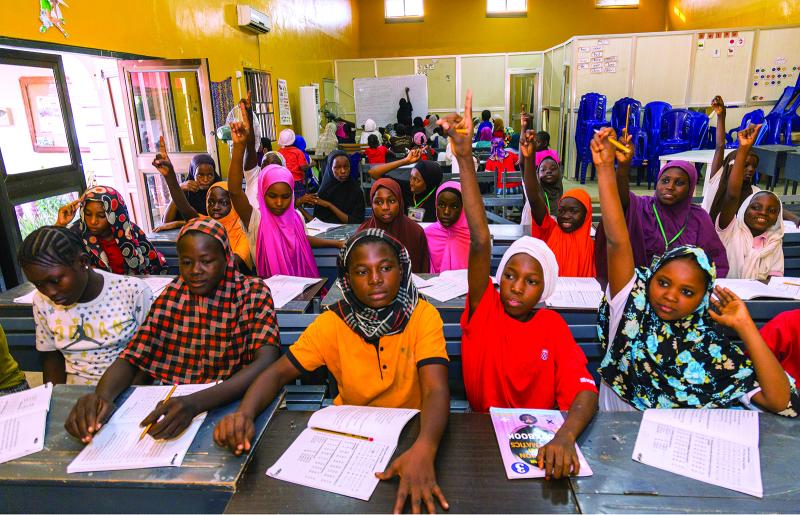 "We were going into dangerous territory," says Lionel Rawlins, the university's security chief. "We were going into Boko Haram's backyard to snatch the girls. The morning before we left, we went to the police and said, 'Are we ready?' And they said, 'We're not going. It's too dangerous up there.' So I went back and told Margee we were on our own. We looked at each other, and I knew exactly what she was thinking. She said, 'If you're up to it, I'm up to it. Let's go get the girls.'"
This wasn't exactly what Ensign had imagined she would be doing when she arrived in Yola in 2010. An educator and administrator originally from California, she had come to run the American University of Nigeria (AUN), which had been founded in 2004 by Atiku Abubakar, a former vice president of Nigeria and a multimillionaire. Abubakar chose Yola because it's in one of the country's poorest, least developed states, with 80 percent unemployment, 75 percent illiteracy, and a "stunning" rate – due to chronic malnutrition – of 47 percent.
Ensign was intrigued by the job offer: Abubakar wanted AUN to be a development university that would transfer its knowledge to the poor areas around it, the way American land grant universities passed on agricultural knowledge to farmers.
"I hadn't worked in West Africa," she says. "It was a gigantic challenge: the complexity, the size, the scale of the country, the scale of the problems. But I kept thinking maybe this would be a chance to educate some of the future leaders of this very important country. Nigeria will be the third-largest country in the world by 2050."